Posted: July 16, 2015 10:29am
Summer has rolled around once again, and soon it will time for the children to pack away their schoolbags. But with all the well deserved down time comes one small problem- how do we keep them busy?
Most parents will be familiar with the usual options- Madame Tussaud's, the London Eye, Harrods etc- and they can become a tad dry over time. CatwalkShcoolgates wants to help make this the best holiday yet; here are some of our top city suggestions for activities with the children this summer.
Indoor Go Karting with Capital Karts
Boasting the longest track in the UK, Capital carts offers fun for the adrenaline fueled family. Perfect for kids aged 12-15, the 30 min race around the circuit can see one reaching over 45mph – definitely a rush for a summer Sunday! All safety equipment is provided, and you can find out more here.
Shrek's Adventure with Dreamworks Tours
Meet your favourite characters from the well loved movie series and step into the interactive world of Far Far Away. Board a mysterious tour bus driven by the silliest character of them all – Donkey- and do your best to collect the 10  magical ingredients that will help transport you home. There are 10 fairy-tale themed live shows, incorporating fantastic animation, lots of laughs and a little bit of Dreamworks magic. Opening in July, be one of the first to experience this epic adventure. Book tickets here.
Go Ape! at Trent Park
Take on Tarzan swings, high ropes and zip wires in the hair raising tree-top adventure. Located ten minutes away from Cockfosters station,Go Ape! is set amidst beautiful woodlands. Fun for literally the whole family, you should bank on giving this activity about 3-4 hours of your weekend. Finish off the day with a hike or cycle through the park. Find booking information here.
Monski Mouse's Baby Disco Dance Hall at Southbank Centre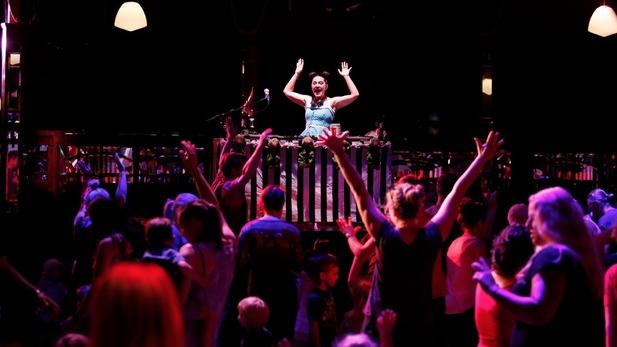 Created and hosted by mum of two Aussie DJ Monski Mouse, this event at London Wonderland (Southbank Centre) offers a fantastic time for families with little ones five and under. Mums and Dads are welcome to join in this international hit event and dance away to retro beats and remixed nursery rhymes. Give the little ones the opportunity to experience the joy of expression, dancing and play in a fun and family friendly environment.
The Dance Hall runs until September, and you can find more information on dates and times here.
Sensational Butterflies at The Natural History Museum
Who doesn't love butterflies, and what symbolises carefree summer days more than these beautiful and delicate creatures. Bring the children along to the Sensational Butterfly House at the Natural History Museum and let them wander among free-flying butterflies and moths from across the globe.
Also including educational games, interactive displays and talks by field experts, the experience provides a fantastic dip into the beauties of the natural world. Aside from this, the grin the children wear on their faces when a butterfly alights on their shoulder is definitely priceless. Find ticket and booking information here.
Do you know of any secret spots or lovely locations for a day out with the family? We'd love to hear about them, and share your tips with the CatwalkSchoolgate community.